*HANSON STORIES*
---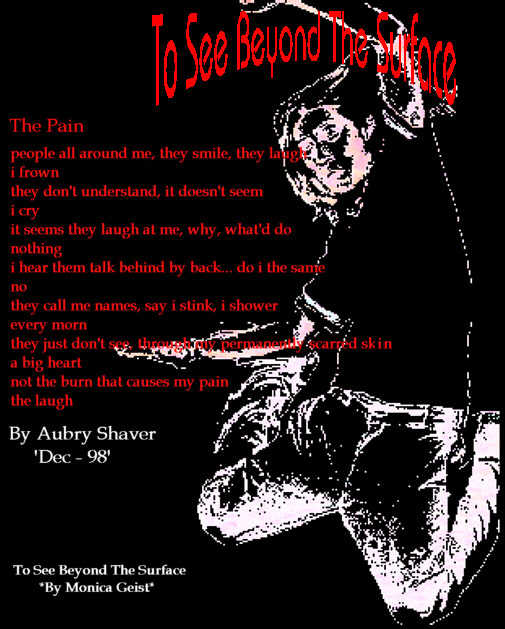 Graphic by Monica Geist
---
Enjoy the story everyone!
A touching, moving story about a scarred and lonely man named Jason, who finds love and acceptance, after being the only one to help Taylor through a tragic accident!
RATED: PG
---
The Sequel - To Look Within My Soul
Check out my Awards For: To See Beyond The Surface!
New Award posted: 1/29/2001!! Check it out now!



EMAIL ME
I rate this story PG, because it does have some content that some may find upsetting. This story does not contain sex and only a little violence! You have been warned! My Story is a work of pure fiction. The characters, incidents, and dialogues are products of my imagination and are not real. Any resemblance to actual persons or events, living or dead, is entirely coincidental. I am NOT affiliated in any way with Hanson. So sit back and enjoy and good reading!
Copyrightę 1999, 2000, 2001, 2002, 2003
This story may not be reprinted in any way, shape, or form without written permission from the author.

5/19/2001 - Note: I have revised my story by editing its contents, correcting any grammar or spelling mistakes through out the story. Enjoy the updated version.
---
TO SEE BEYOND THE SURFACE

---
FastCounter by LinkExchange
---
I want to thank all the people who have inspired and helped me in the writing of this story. First my loving beautiful twin sister, Monette, who let me read her each chapter before posting and giving me ideas when writers block hit. And correcting me on any mistakes. Second Millen, (you know who you are :o]) for giving me inspiration and patience. Thirdly Megan who knew when to push me when I felt blocked and gave me wonderful ideas!! And also to Aubry Shaver who allowed me to use her poem on my graphic above that I made for this story!! Lastly to all the Hanson fans who gave me the incouragement to go on through their wonderful compliments about loving my story. Thanks all. I love you guys sooooo much!! In about a month or so I will posting up another story that I hope you will enjoy just as much!
---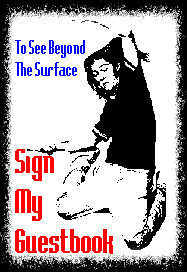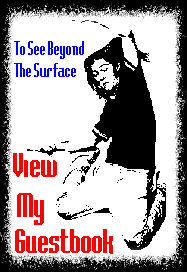 ---
This is my To See Beyond The Surface banner! If you want to display this banner on your site just copy and paste the HTML code below:
<a href="http://masterpieceofhanson.com/hanstory.html"><img src="http://masterpieceofhanson.com/surfaceban.jpg" border="0" alt="Come read: To See Beyond The Surface!"></a>

---
<< Back to Story Page>>
Back To Main Page>>
---