*HANSON STORIES*
---
Graphic made by Monica Geist!
---
Enjoy the story everyone!
Taylor and Zac are kidnapped by an unknown faction of the US government, when someone gives away the secret of their incredible psychic abilites. They must have all three brothers, but Isaac escapes their clutches and must find a way to help his two brothers before it's to late.

His only hope is... NADROJ!!
RATED: PG
---
Three Minds As One
Color Of Blue
The Ties That Bind Them
EMAIL ME
I will be adding chapters to this story every other weekend if possible. So keep checking back! I hope you will enjoy this sequel just as much as: Three Minds As One and Color Of Blue and The Ties That Bind Them! I rate it PG, because it does contain some violence, but no sexual situations. You have been warned! My Story is a work of pure fiction. The characters, incidents, and dialogues are products of my imagination and are not real. Any resemblance to actual persons or events, living or dead, is entirely coincidental. I am NOT affiliated in any way with Hanson.
So sit back and enjoy and good reading!
Copyrightę 1999, 2000, 2001, 2002, 2003, 2004, 2005, 2006
This story may not be reprinted in any way, shape, or form without written permission from the author.
Update 3/30/2006: STORY UPDATE: I am really sorry that I haven't been updating my story. So much has happened since the last update. My mother passed away at the end of 2004 of cancer, and my father had heart failure and my time has been taken up with so many adjustments to my life these past couple of years. But don't worry... I am not giving up on this story. I just have to adjust my time and refresh my thoughts in my story line. I am hoping to put up the next chapters very soon! Thanks so very much for your patience with me!
Happy reading everyone and enjoy!
---
ONLY TIME WILL TELL - The Sequel to The Ties That Bind Them
Started 7/8/02 and Finished: Pending.
---
---
Please sign my guestbook. I would love to know what you think of my story so far.
---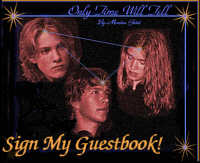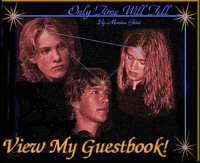 ---
This is my Only Time Will Tell banner! If you want to display this banner on your site just copy and paste the HTML code below:
<a href="http://masterpieceofhanson.com/onlystory.html"><img src="http://masterpieceofhanson.com/onlybanner.jpg" border="0" alt="Come read: Only Time Will Tell!"></a>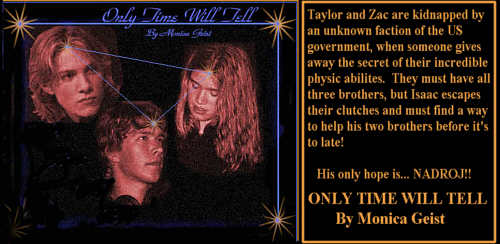 ---
<< Back to Story Page>>
Back To Main Page>>
---