*HANSON STORIES*
---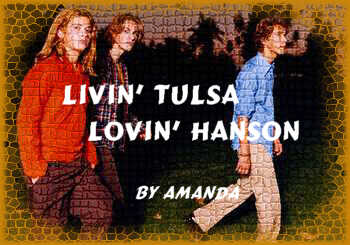 Graphic made by Monica Geist!
---
Enjoy the story everyone!
RATED: G
---
EMAIL AMANDA
*Disclaimer* I am no way associated with Hanson or Mercury records. This story is completely fiction. (FAKE) It was written by me Amanda and involves my younger cousin Hope and my bestest friend Jacq.(Jacquline). I'd like to hear your questions or comments but please don't send me hate mail.
Thanks, now enjoy the story.
Copyrightę 1999, 2000, 2001, 2002,2003
This story may not be reprinted in any way, shape, or form without written permission from the author.
---
LIVIN' TULSA, LOVIN' HANSON -
Started 1999 and Still Pending.
---
FastCounter by bCentral
---
<< Back to Story Page>>
Back To Main Page>>
---