---
So you want to win my Artist Excellence Award? Just follow the instructions below and make sure you put in the subject line of your email: Art Excellence Award.
---
ART EXCELLENCE AWARD:
Have you drawn Hanson? Did you put a lot of time and effort into your artwork? If you answered yes to these questions, then you can win my MASTERPIECE OF HANSON AWARD OF ARTISTIC EXCELLENCE! The artwork can be done in any media or style! Just email me your name, Artwork or URL of artwork. Then I will go and check it out! I am not looking for perfection or even realism in your work. I want to see the time and effort you put into the artwork! So Good luck!
---
Here is a sample of what the award looks like below: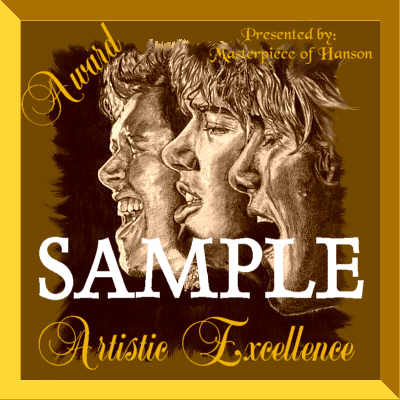 ---
LIST OF ART AWARD WINNERS:
These are all the winners of my award! I will be adding a lot more to the list below. I have so many favorite Hanson artists! Most recent winners are on the bottom of the list! Just click on the links below to check out their art! They are fantastic!! Congratulations for winning my award!
Lauren Trenta
Jane
Yael Leshem
Rebecca Cox
Monica MtLion
Tammy Neil
Kira
Kailey
Erica Myers
Desiree (Dez)
Jennifer Murchison
Heidi (Lucy)
---
EMAIL ME
MAIN PAGE
---
*Please Note: I have no connections with Hanson, or Hanson's Label. All art on this page is for enjoyment purposes only! No Art can be sold in Hanson's name! The art is mine! You may not copy it without my permission!! Please ask first!! Okay? Thanks!!