---
After 6 long years of enjoying Hanson's music and drawing their expressive faces, I have finally met Hanson!
You can read all about it below!
---
I MET HANSON!
August 20th, 2003 - Schuba's in Chicago

Click on pictures for larger view
---
MAYFEST - May 20th 2005


I got to hand Taylor another drawing and also a cross-stitch that my dear friend Lynn did for Taylor. Lynn made a website explaining what happened and there are lots of pics to see also! So check it out!



Click Here To Read All About It!




---


The day started in Milwaukee, Wisconsin, where I live, with only 2 hours of sleep, because usually I am a night person and I had a hard time falling asleep, so I hoped that I would still be okay, since the adrenaline was running through me feeling excited. As I sat on the steps outside my house, I kept thinking this is the day I will finally, after all these years, see Hanson live in concert and also that I would be meeting them and personally handing them one of my drawing's. After only reading what Hanson thought of my talent of drawing, through choosing me as a netpick and through private messages on Hanson net, it was exciting to know that I would finally see their reaction, on their faces, when they saw one of my drawings.
Jo and Nyssa arrived about 7:30 and we were on our way! They were the first Hanson netters that I met and I felt very happy and excited. As we drove down the highway we chatted about Hanson and other stuff. I felt very comfortable with both of them, like I knew them all my life. We arrived at Schuba's close to 11:00 o'clock due to the heavy traffic. I could see a line of people already there. I was so excited to meet all my friends! It was a warm day, but luckily the building was shading the sidewalk where everyone was waiting. Once we found our place in the line, I felt at home. I chatted with a lot of people. I was thrilled to finally meet Megan, Rach, Kim, Sharon, and many others. A lot of people commented on my drawing, that I leaned against the building. I was very flattered that a few fans wanted a picture of me with my drawing. I know I have always stated that I hate taking pictures, so I hope I didn't look to bad in them! Hope I didn't break anyone's camera. LOL Well anyways Hanson's tour bus arrived near the afternoon and Jessica came out going into a side entrance. They set up barriers to the door of the bus and the door to the club. I have to say that the fans were great in Chicago! Everyone was polite and happy being there. Micah came out and roamed through the crowd of people and found all the people who were to go in to the meet and greet. I was very content to receive my VIP pass, which was blue in color, and I stuck it on my shirt. Everyone was excited that I was finally going to give Hanson my drawing. I hoped that they would love it and everyone kept reassuring me that Hanson would be stunned by it. hehe I was getting over heated and felt very sleepy, but I made sure that I drank a lot of water. I sure didn't want to get sick that day. Thanks to Meg (hansonreflection), who says she is my biggest fan, LOL she kept me hydrated by giving me a huge bottle of water to drink.


---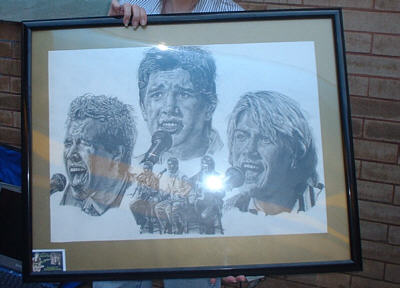 Picture of my drawing taken by Meg (Hansonreflection) above!
---


Finally we heard that the Meet and Greet would be at 5:30 and was told where to stand. There was an middle entrance to the building and we thought we were to stand there. Then somehow we thought we shouldn't be there and went to the front entrance, then we were told to go to the middle entrance again. We were getting a little confused and hoped that was where we were told to wait. We were all hot and just wanted to get into the air conditioned building. Things were running a little behind and we didn't get to go in until about 6:30. We were all anxious to meet Hanson. Megan kept making us laugh as we waited. I can't remember everything she said because only running on 2 hours of sleep was clouding my mind. LOL Finally Micah came to get us and told us that it would be a fast meet and greet, but I didn't care as long as we were going to meet them. He told us no autographs, just pictures would be taken. I felt very calm as all of us had to go to this upstairs room to meet them. I was first in line. I made sure as I walked in that the drawing wasn't turned toward them. Well anyways... Isaac, Taylor and Zac smiled at all of us and said hi. Taylor explained that he wanted everyone to come in as a line and he pointed to me that I would be first. I gave him a big smile. I knew this was it! I was going to see their reaction for the first time from one of my artwork's of them! I wonder if they were questioning what I had in my hand. I walked up smiling and stood in front of them. I raised the drawing only showing the backside. They smiled at me and said "Hi". I remember that Isaac said, "Hi, Monica", because he saw my name on my VIP pass. I hope I get this correct, because I was so dopey from being sleepy. Well anyways... I looked at them all in the eyes thinking they all looked fantastic.
I said and I quote, hoping this is right, "I want to give this to you guys in appreciation of all the years of listening to your wonderful music!" I then flipped the drawing over so they could see it. Their eyes lit up with shock on their faces. They stood there stunned for about half a minute, just looking at the drawing. I LOVED IT! Taylor exclaimed, "WOW!!" They each reached out grabbing onto the drawing and in unison, which I thought was very cute, they said, "YOU DREW THAT?!" with huge smiles on their faces. I could have purred like a kitten. I could see the awe in their eyes. I stated, "YES! I want to thank you guys for having such wonderful expressive faces to draw. I am your MOE 5 netpick, Masterpiece of Hanson!" I could see that a little recognition hit of who I was. LOL And if my memory serves me right, I think Zac or Taylor asked me how long did it take me to draw it and I said 20 hours. I was thrilled that I impressed them. Isaac then said, "You want to take a picture with us, with the drawing?" I said, "YES!"


---
Picture of Hanson's first reaction just when I flipped the drawing over, taken by Megan (rebel) above!
---


Then Isaac turned me around to face Megan. Taylor pulled me into him right up against him. I felt his arm around my waist. Zac leaned in on the left of me touching my left hip and grabbed the upper corner of the drawing. Isaac leaned into my right hip and grabbed the corner of the drawing on the bottom and on the side, and then firmly expressed, "We should tilt the drawing so the camera won't flash off of it." I felt very cozy nestled in the middle of them. LOL And Zac, Isaac and I tilted it forward a little together with me saying, "Yes, that is a good idea so the flash won't reflect off of the glass," as I clicked my fingernail on the glass, where I had my hand holding the top, next to Zac's. Megan was ready to take the picture, but suddenly I realized that my glasses were on and I didn't want to take the picture with them on my face. I shouted out, "Wait! I don't want my glasses on, since I don't normally wear them." I quickly took them off with Isaac, Taylor and Zac laughing. I held them behind the picture. Then Megan took the picture. Isaac then said, "Take another one just in case the first one doesn't turn out." I smiled and then Megan took another one. Micah took the the drawing and placed it against a wall near them. I was about to walk away when I thought, "Oh wait. I have to shake their hands. I turned around and stated that I wanted too. Isaac smiled and reached out his hand and I first shook his hand and he thanked me. Then Taylor shook my hand and thanked me and said he was glad to meet me and then Zac last. I walked to the back wanting to see everyone else meet them. I was floating on cloud nine. hehe I felt like I was in a daze from being so over tired. I watched everyone meet them and smiled all the way through. Even though the meet and greet was rushed Hanson made all of us feel welcome and that they were glad to meet us. After we all left to go downstairs, while we left Megan with them so she could ask them her questions, being the reporter for this show, for the Tour page at Hanson net. She told me later that when she left they were staring at my drawing. That made me feel very good inside. I hope they enjoy it for years to come!


---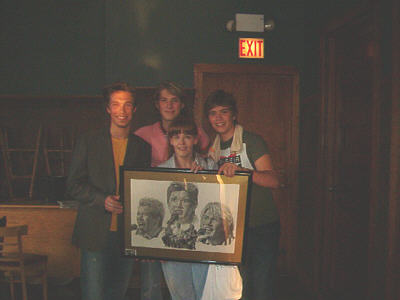 Second picture of me with Hanson in the M&G, taken by Megan (rebel) above!
---


Now for the concert... I found a perfect spot by the wall where there was a long bench and Sharon was sitting there. So during the concert I had a perfect view by just sitting there. Sharon saw the concert by standing up next to me getting a wonderful view. We were on Taylor's side, but you could see Issac and Zac perfectly. The concert was amazing. Once the crowd came in, I have to say that no one pushed or shoved during this show, that I saw. The whole crowd had a nice view. The opening act Tietur was GREAT. He has such a wonderful voice. I thought it was sweet when he told us that this is his last show with Hanson for him and the crowd "awed" for him. Then when Hanson came on, the crowd did surge forward somewhat, but from my section no one seemed to push to much or get nasty to anyone.

They sang: Not in any kind of order.

Strong Enough to Break - this was really GREAT in concert!
Runaway Run
River - Poor Isaac lost sound in his mic and he sang in Taylor's mic with him. It was COOL!
Rock N Roll Razorblade - I loved this song in person. They really rolled on it!
Zac's solo - I was awed by his strength in his voice. He sang it perfectly. He has aquired such a beautiful voice. I enjoyed seeing the facial expressions he made as he sang this song with such inner feeling, that drew to the surface, reaching out to all who could hear him.
Ikes solo - Love Song - Isaac sang it wonderfully and with great feeling inside.
Tays solo - Crazy Beautiful - This was my favorite song of the night! He put so much into it. That guy can rock! Everytime he tapped his feet I could feel the vibration from where I sat.
With You In Your Dreams - this was soooooo good and I like how Taylor got the crowd to sing certain parts with him. You can tell this song will always hold a special place in his heart for him, every time he sings it. His passion shows on his face very deeply when he sings it, from beginning to end.
MMMbop - always great!
Penny and Me - I kept thinking, I drew that with them in the drawing that I gave them. LOL
Misery - Fantastic!
Deeper
Hey
When you're Gone
Sure About It
Rip it Up - I loved how Taylor got the crowd particiation in this one! He sure is one ball of passion and energy. LOL

I enjoyed myself throughly. And someday I hope to go to another one. And meeting everyone was just wonderful! I know there is more but for now here is my review.
It was one of the best times of my life. Thanks Hanson and thanks to everyone for making this experience everything that it should be, absolutely PRODIGIOUS!


---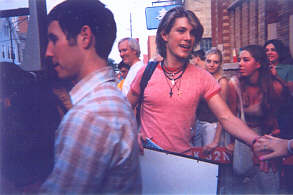 This is Taylor bringing my drawing onto their tour bus, after the Meet and Greet!
---
EMAIL ME
MAIN PAGE
---
*Please Note: I have no connections with Hanson, or Hanson's Label. All art on this page is for enjoyment purposes only! No Art can be sold in Hanson's name! The art is mine! You may not copy it without my permission!! Please ask first!! Okay? Thanks!!