---
Want me to draw a portrait of Hanson for you? Then just click on the link below to find out how!
---
CUSTOM HANSON ART:
So many Hanson fans have been asking me if I would draw a portrait of Hanson for them! So I have finally decided to do just that! I am a professional artist as many of you may already know! I have decided just for Hanson fans to cut my prices that are more affordable for younger people! These prices are for Hanson portraits ONLY!! So if you want a Hanson portrait drawn by me (Monica Geist) I will gladly do so. My price list is posted on this page below. To find the orderform to fill out just click on the link TO ORDERFORM PAGE, and form will open up in a new window, for you to print out. For examples of my work just go to My Pastel or Pencil Gallery pages!
You may send the whole price or HALF of the total price due of the portrait you want. Then when you receive the portrait in the mail you pay the OTHER HALF of the balance due. MONEY BACK GUARANTEED!! You must be completely satisfied with the portrait from me. If the portrait fails to meet your expectations in any way, simply return it for a prompt refund.
*NOTE* Upon further inquiry about copyright laws I have now found out that if a drawing is a original artwork (i.e. freehand drawn, not copied or photocopied or traced) it can be sold by the artist, because it is their original creation and interpretation of any source they use it from such as photos ect. So I do have the right to sell my original drawings of Hanson, that I have drawn from photos of Hanson that are put out for public display from other sources, but I always ask permission first to use the photos that I draw from, that are taken by the fans of Hanson or if I want to use any photos from Hanson.net.
---
On the orderform I state that orders will be filled in 4 to 8 weeks! To let you know it may be sooner depending on how many orders I receive from my Portraits by Monica page!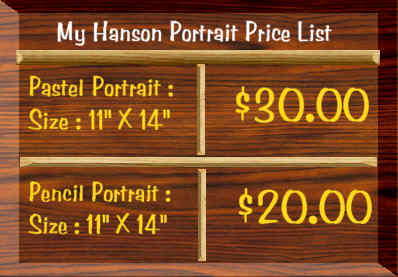 Also some drawings that I do of Hanson may cost more then the prices listed above, due to special kind of orders from the fans!
---
JUST SEND THE ORDERFORM TO YOUR PRINTER or SAVE TO YOUR HARD DRIVE AND PRINT OUT!
Click here for the order form. It will pop up in a new window!
If you have any trouble sending the orderform to your printer, just email me and I will snail mail you one!
Please make checks payable to: MONICA GEIST!!
Include your email address on orderform!
Special Note: On the order in the Other box, that is for drawings agreed to that is someone other then Hanson. If we have discussed such a drawing, just fill in that section of the orderform.

Also, you can email me the photo of what you want me to draw. But make sure it is clear and concise as possible. I hate to work from blurred out pictures. I want to see as many details as possible!

If you have any questions always feel free to email me! Thanks!
---
Thank you so much for your order!
---
!JUST CLICK HERE IF YOU WANT TO FIND OUT
HOW FAR I AM WITH YOUR ORDER!
---
EMAIL ME
MAIN PAGE
---
*Please Note: I have no connections with Hanson, or Hanson's Label. All art on this page is for enjoyment purposes only! No Art can be sold in Hanson's name! The art is mine! You may not copy it without my permission!! Please ask first!! Okay? Thanks!!